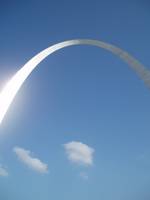 ***I took this picture! It looks pretty good, I think.
I am a strong advocate of the mini-vacation. It consists of 2-3 days of out-of-town fun. The mini-vacationer should try to see some tourist traps, family, and/or local specialties. In our most recent mini-vacation, we did all three.
After some driving, we arrived to a warm welcome at Aunt Suzy and Uncle Bill's house. Their three Shitzu dogs, Gizmo, Gadget, and
Sammy
, gave us a warm welcome. Sammy is the happiest dog that I have ever met. Joe, Tim's brother, and Ellie, Joe's fiance, arrived a little later than we did. We sat up and chatted and then hit the hay for the next day.
On Saturday, Suzy made a big breakfast and we left for
St. Charles Old Main Street
. Lewis and Clark once arrived on these banks so there are many statues and park areas devoted to that history. It is also the site of the first
Missouri Capitol
. As we do not have a Midwestern favorite,
Steak and Shake
in our area, we had to stop for a delicious shake and burger.
In the evening, Suzy and Bill barbecued for the family. Some watched the St. Louis Cardinals on the television and some of us played Sequence and Scrabble.
We started off early the next day in St. Louis to meet Cousin Matt. The five of us (
Joe, Ellie, Tim, Matt
, and myself) went to a St. Louis speciality,
Imo's Pizza
. I was told it is a local speciality because the Provel cheese was created in St. Louis. It has a crispy, thin crust and is cut into squares rather than the traditional pie pieces. It held up to it's reputation. It was delicious. We had sausage and onion. The guys sat around the table and told stories about when they were little and Ellie and I laughed along.
After pizza, we drove to the St. Louis Cardinals game. And it was hot. Darn hot. We had good seats along the third base line. I usually enjoy the snacks at the game, but I was in more need of liquids so I drank lots of lemonade and water. I purchased a
St. Louis Cardinal visor
to protect my face. The game went into extra innings, but it was worth it because the Cards won 6-5 in the eleventh inning! Hot.
With the weather cooling off, we ventured to the St. Louis Arch, Gateway to the West. We walked around by the river and enjoyed the view. With a ride on the
St. Louis Metro
, we arrived back at Union Station where we had some supper and conversation.
This mini-vacation was great. For one thing,
Tim gets so excited
about his sports teams and he has loved the St. Louis Cardinals for a very long time. He hasn't been to a game since he was a little boy. We also were able to spend time with family and that made the weekend even better. It was a perfect end to the summer.