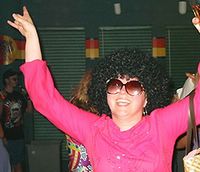 I love to go to theme and/or costume parties. I remember when I was getting married and I was asked what kind bachelorette party that I wanted, it was easy. Of course, I wanted a 70's bachelorette party. I did not specify whether a disco 70's or hippster housewife 70's. Thankfully, both showed up. It wasn't until later, did I sport my full-on disco self at my friend Janelle's Flashy Disco bachelorette party. (See photo). It was great. I had purchased this funkalicious hot pink and sparkled dress. It was vintage and perfect. I went to the KMART where I was surprised to see that big, brown sunglasses with a little plastic, gold bling were still in style.
Another superb bachelorette party would be my friend Chrissy. We dressed in vintage bridesmaids dresses. Imagine...I am wearing a pastel pink frill, off the shoulder. But, the best part was the floppy pink hat to go with it. We were a hit.
Recently, we went out to celebrate my friend Sara's nuptials with printed shirts that stated a number of obscene things about her. Then, she sported a shirt that said, "Hi. I am Sara. I am the bride." I wish that I could post all of the inappropriate sayings that I meticulously printed on the cute pink shirts, but it might just change your opinion of me.
This weekend, I will attend another fabulous bachelorette party. My friend Amanda is getting married. We will wear wigs again (my favorite), feather boas,
bed
azzled clothes, and be very fun. I cannot reveal too much since I know that Amanda reads this blog, but it will be a night to remember.
It is never the drinks (even though, that is fun too), but rather the terrific memories that we make when we are out. This weekend will fill the void of having no costume parties to speak of for at least two years. I can't wait.